I have never really been that into animal documentaries, I do watch them but they're not my first choice when flicking through the channels. However, when I found out about Spy in the Wild, whilst watching This Morning on Tuesday whilst having a cup of tea and a scone, I was extremely intrigued. This programme isn't just a regular animal documentary, the creators used animatronics with cameras in to secretly document these particular animals in the wild. They call them spy animals and they are little robot animals. As I study Specialist Hair & Media Make-up, animatronics does interest me too so this programme seemed right up my street. Here's the clip from This Morning which got me hooked: https://www.youtube.com/watch?v=Qo_PWYuueYE.
This particular episode was about love so it captured the family relationships and courtship of different types of animals; each species behaved individually, however, there were aspects of each species which reminded me of our own.
Wild Dogs
The wild dogs are a very family focused species and have extremely strong family ties. They show affection right through to their extended family. I know my mum would do anything for me, whether it's just giving me advice on the best way to washing my new jumper or travelling 2 hours to see me at uni just because I was lonely. The mother of the wild dog pups weren't dissimilar. She protected her pups when there was a risk and put herself in danger then came back to the home to tidy up after!
Elephants
David Tennant explained that elephants have a developed sense of love. I just thought it was hilarious when the baby elephant tried to walk for the first time and the mum kept having to pick it up because it kept falling over. This reminded me of when I was drunk at my brother's wedding and my mum had to support me to the car so I would get there vertically. It's this instinctive care that the elephant has for her baby, like when she strokes the baby under its chin with her trunk, that warms the cockles of your heart!
Indian Langurs
These little baby monkeys were so cute! It was explained  that the teenage monkeys all come in to look after the baby for the mums, so they can relax, and all these teenage monkeys were almost fighting over each other to hold the baby. This just reminded me of my sister and I and our nieces because we are always competing to give the most love to our nieces and we get so jealous if one of us is missing out on babysitting duties! I got so emotionally involved with these monkeys. I won't ruin it for you but I cried at one point when they were being so affectionate to each other.
Prairie Dogs
They kiss each other!! On the lips!! Like humans do!! It is so cute!! Need I say anymore?…
Adélie Penguins
These penguins made me laugh as the women choose their mate based upon how well the male makes their nests. Apparently the women are fussy and will only stay faithful if their needs are met. Hopefully, us females aren't like this but it does sound familiar…
Giraffes
This part of the programme was bittersweet. The way that all the giraffes bowed their heads in order to pay their respect to the older giraffe who had passed away was so poignant but not unlike the way humans pay their respects to those who also pass away.
Chimpanzees
This was my favourite bit of the whole programme! When the chimp was playing with the kitten, adorable. I thought it was particularly interesting when David Attenborough explained how this may be evidence for how humans express their desire for pets. It's just so cute!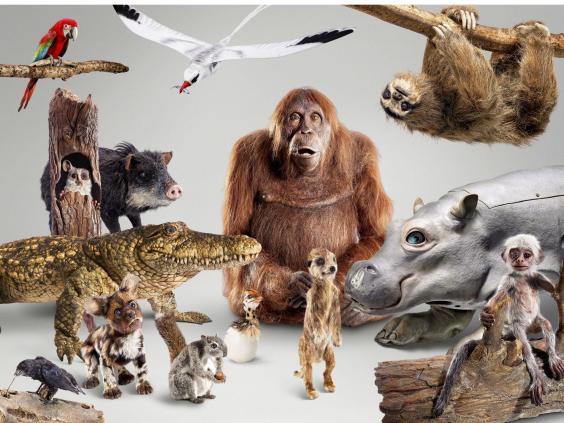 image from Independent.co.uk
I really recommend watching this. It's just an innovative way to document animals in the wild. I had never seen anything like it. It is now available on BBC iPlayer, you can watch it 
here.
Hope you enjoy it as much as I did!
Emilia x