Hello again!
I hope you're enjoying your Christmas break so far and are looking forward to the New Year!
I just wanted to write a blog to let you know about all the great new things that are happening at UCB for the New Year in 2020!!
Aspire Aesthetics
In UCB's Summer Row campus, an aesthetics clinic will be opening called Aspire Aesthetics. This offers amazing facilities for the Aesthetic Practitioner course and gives students the opportunity to practise and apply their skills hands-on. You will be able to visit this clinic and receive a wide range of non-invasive face and body treatments at a much lower price than that on the high street.
All students will be knowledgeable, fully trained and professional in order to carry out these treatments so there's no need to worry about the practitioners being students. To find out more about Aspire Aesthetics you can visit their website. This clinic will be opening in the New Year and will be based on the 5th floor, Summer Row campus.
Cabin Crew and Aviation Simulation Room
Head up to the 9th floor in Summer Row to find our new Aviation and Tourism Suite!! As UCB have managed to retain their Centre of Excellence status with the Institute of Travel and Tourism, investments have been made to create an experiential working environment for students. If you're studying Aviation and Airport Management or one of our tourism courses, you will have the privilege of working within this amazing state-of-the-art simulation facility!
Inside this simulation facility, there will be the GDS Galileo system and check-in areas as well as training within the cabin. There is also a new Level 2 in Cabin Crew and Airport Operations course which will also allow you to work within this facility.
Moss House
Located across the road from McIntyre House will be Moss House. This is opening in 2020 and I'm really looking forward to it! Inside this new building will be the following facilities:
35-metre indoor running track for speed and strength work, overlooking a courtyard
High performance and conditioning suite with training laboratory
State-of-the-art gym
Latest equipment, from treadmills and strength to cardio
Exhibition space
Break-out areas
Classrooms
Lecture theatres
Large, relaxing 'living room' with a coffee shop
US-style diner with centrepiece pizza oven overlooking courtyard and outdoor seating
Rooftop rainwater harvesting system to recover rainwater and recycle it for use within the building
Photovoltaic panels installed on the roof to turn energy from the sun into electricity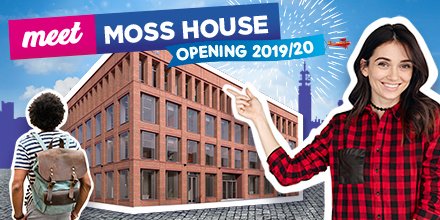 Camden House
Inside Camden House is the new library! This used to be located in Summer Row but to make room for Aspire Aesthetics they have moved!
You will also find your subject librarians here who will help you find sources for your assignments. I 100% recommend booking an appointment with your subject librarian before researching for your assignments as they will point you in the right direction. To book an appointment just log in to your student portal, follow the link for E-library and you should see your subject librarian with the option to book an appointment!
The Link
Located opposite to Camden House is the Link. This is due to fully open in 2020 and will house Finance, Marketing, Admissions, International Student Admissions and Student Services.
The department inside this building which you will probably need the most is CASE! CASE will support you and help you improve your assignments before submitting them. I personally think they are very helpful!
What's happening in Birmingham in 2020?
If you're new to Birmingham or would like to know what's happening in town, I have made a list of upcoming events for 2020. If you would like to find out more information or book tickets, just click the one you like below 🙂
Atif Aslam
MADE Festival Line Up
The Gin & Rum Festival – Birmingham – 2020
The 1975
Back To The 90s Festival – Birmingham
Birmingham International Tattoo 2020
Cirque du Soleil: Crystal
Billie Eilish: WHERE DO WE GO? WORLD TOUR
Great British Beer Festival Winter 2020
RuPaul's Drag Race Werq the World Tour 2020
Strictly Come Dancing The Live Tour 2020
Harry Styles
Stereophonics
Pussycat Dolls – I am super excited for this reunion!!!
Michael Ball & Alfie Boe
AC/DC UK
Celine Dion
Simply Red
Have a Merry Christmas and a Happy New Year!!!
Thanks for reading
Charley x