Hello and Happy New Year!!!
I hope you had a good holiday and are ready to dive into 2020! Even though I hope you are having a wonderful start to the new year, I would like to take this opportunity to write about something that has really wrenched my heart.
As you may know, I study Aviation and Airport Management, but I touch on tourism in my course too. As this blog relates to tourism a little, I will share below some of the tourism courses we have on offer at UCB!
All of the above courses are undergraduate honours degrees, while Hospitality and Tourism Management and International Tourism Business Management can also be studied as a Foundation degree then a top-up. You can join the courses in either January or September!
The Australian Bushfires
As you may have heard on the news, Australia is currently experiencing the worst bushfire season ever! Just so you can understand the monstrosity of the bushfires, please watch this video at your own discretion (video contains graphic content).
You can also watch this one below to see what a local resident has to say about the bushfires:
1 billion animals have been killed
12.35 million acres of land have been burned
Over 2000 houses have been destroyed
25 people have lost their lives
Some people have become trapped as the wildfires circle around their area.
How you can help
Even though it isn't possible to go to Australia and physically put the fires out ourselves, there are a few things we can do to try and help, such as sharing on social media to raise awareness. It is important that we spread the news between ourselves as much as we can to help others understand. I have been surprised by a few of my friends when I told them about this and they weren't aware of the situation.
As well as sharing on social media, you can visit the following websites in order to donate:
In case you're wondering "what is my money contributing towards", you will be pleased to know you could be helping to:
support the hardworking firefighters
keep stock replenished at the fire brigade stations
recovery for everyone involved
medical care for animals and people suffering from burns and injuries
water supplies
rehousing the homeless
replanting trees
adopting the affected animals
Also, on WWF's website, you can join their membership programme and decide how much you'd like to donate, you could adopt an animal, or you could educate yourself on how to help  #FightForYourWorld! Currently, the most endangered animal is the jaguar! There are only 100 in the wild!! But with your donations, you could help to develop sustainable livelihoods for them and educate the local community (many ranchers regard them as pests and shoot them, as they sometimes kill cattle due to loss of habitat).
Visuals of the disaster
According to BBC News, there is a variety of images being shared online which could be misleading. For example, Rihanna recently shared the below photo which is a representation of the location of all the fires within the past month. Many people are mistaken by thinking this is a photograph of the country currently.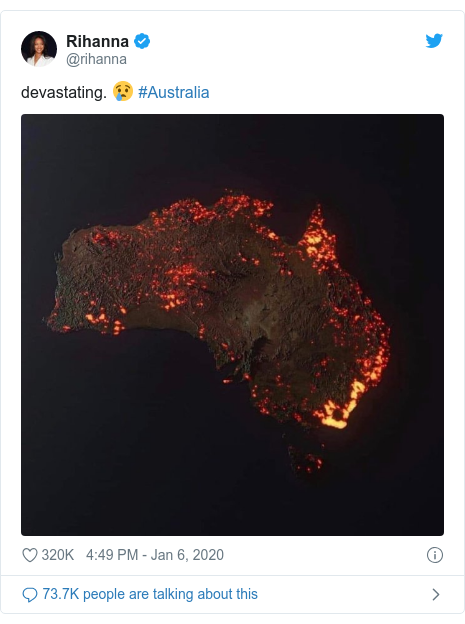 The main fires that are currently still burning and spreading are shown in the image below. New South Wales and Victoria are said to be the worst-hit areas with wildfires burning 70 metres high (taller than the Sydney Opera House!).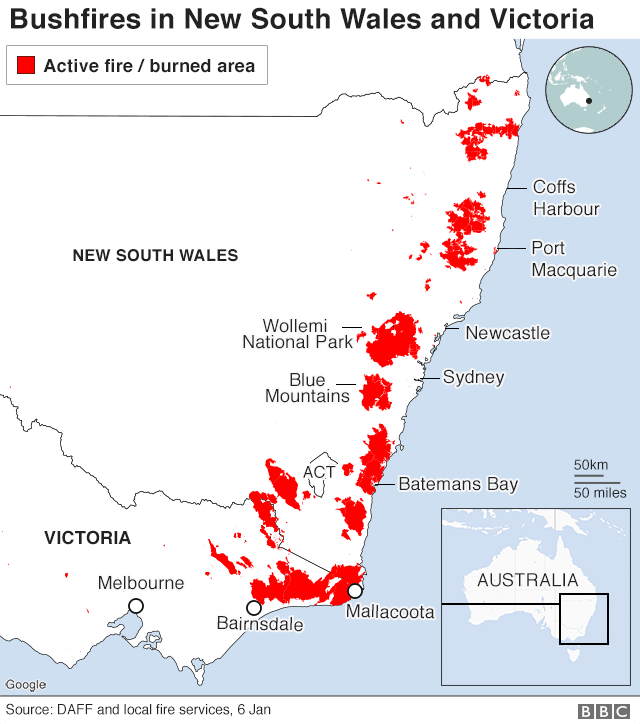 On a happier note!
There are other projects around the world that you could volunteer to help out with!
I'm hoping to go to Tenerife in the coming months to help research for whales and dolphins. The company I will be volunteering for is WhaleNation! I'm super excited about this opportunity and would love to participate in other similar projects. The thought of helping our planet and wildlife warms my heart.
I hope that in the future I will be able to participate in projects across locations such as Africa, India, Thailand and Fiji!
If you are also interested in this please visit GVI's website.
I hope you will join me on this adventure 🙂
Thanks for reading!
Charley x